The spotted seatrout also known as speckled trout,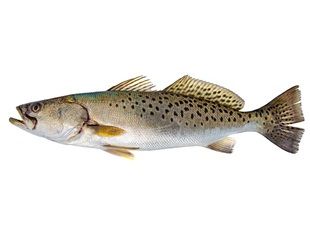 or spotted weakfish (Cynoscion nebulosus) is a common
estuary fish found in the southern United States. While most of these fish are caught on shallow, grassy flats, spotted seatrout reside in virtually any inshore waters, from the surf of outside islands to far up coastal rivers, where they often come for shelter during cold weather. Contrary to its name, the spotted seatrout is not a member of the trout family (Salmonidae), but of the drum family (Sciaenidae).

These fish have large, prominent canine teeth; dark back with grey or silvery sides marked with scattered ocellated black spots of varying size. Plain black spots are also present on the dorsal and tail fins. Its shape and coloration is reminiscent of a brown trout (Salmo trutta), hence the name. In stained water, this fish's background may take on a golden hue.

The average size of these fish is 0.5-1.0 kg (1-2 lb), but in most areas fish up to 2.5 kg (5 lb) are fairly common. 3.5-4.5 kg (8-10 lb) fish are rare. World record is 7.9 kg (17 lb 7 oz). These fish are active most at dawn and dusk. A proven catching technique is at dark to throw out a glow stick into the water and cast around it as these fish are attracted to light (see Fishing light attractor). Live shrimp are an ideal bait, but speckled seatrout very rarely go for dead shrimp. Other excellent baits are fingerling mullet and soft artificials, if "worked" correctly. It has been proven that the very large fish will attempt to swallow mullet up to 1/3 of their own size.

Like all members of the drum family, mature males produce a "drumming" sound to attract females during the spawning season (May through early September). This fish is often found in shallow tidal creeks near flooded salt marshes, where it feeds mainly on shrimp and small fish. Spotted seatrout are also know to congregate heavily over oyster reefs. It is fished both commercially and recreationally.

The spotted seatrout makes for excellent tablefare with a firm, white meat.

This fish is more commonly referred to as "speckled trout" by coastal fisherman along the Gulf of Mexico. Residents of Florida and coastal Georgia commonly refer to it as simply "trout." The shorter alias, "specks," is also used.
Information courtesy of Wikipedia